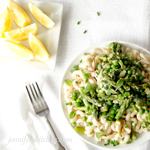 Pasta With Spring Vegetables
A light and flavorful pasta dish made with spring vegetables.
Ingredients
8 ounces uncooked pasta - I use Tinkyada pasta because it's made from whole grains, tastes amazing (especially compared to other whole grain pastas), and cooks up nice and firm (never mushy).
16 green onions or 12 spring onions
1 pound asparagus (about 25 spears)
1 - 2 tablespoons olive oil
2 tablespoons minced fresh parsley
2 - 3 cloves garlic, minced
1/2 cup pasta water or broth
1 cup frozen peas or 1 pound fresh peas, shelled
1 tablespoon snipped chives
2 teaspoons granulated onion
1/2 teaspoon dried dill weed
1/4 teaspoon dried basil
3/4 teaspoon salt
1/3 cup of my healthy, homemade Creamy Italian Salad Dressing
1/2 teaspoon lemon juice
lemon wedges – optional
avocado dices – optional
Instructions
Prepare pasta according to package directions.
Meanwhile, slice green onions, using the white and light green part and discarding remaining. (You should have approximately 1 cup sliced onion.)
Break woody ends off asparagus and discard. Cut asparagus into 3/4-inch pieces, leaving tips of spears a little longer.
Sauté onions and asparagus in oil over heat for 3 to 4 minutes.
Add parsley and garlic and sauté for one more minute.
Add water or broth, cover, and simmer until asparagus is tender-crisp (about 2 to 3 minutes).
Stir in peas, chives, and seasonings. Cook 1 minute. There will be extra broth leftover; don't drain it.
Combine drained pasta, vegetable mixture, dressing, and lemon juice.
Serve immediately with lemon wedges and diced avocado as desired.
Recipe by JennifersKitchen at https://jenniferskitchen.com/2015/04/pasta-with-spring-vegetables.html