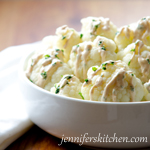 Cauliflower with Lemon Tahini Sauce
Ingredients
1/4 cup water or broth
4 cups raw cauliflower florets
2 cloves garlic, crushed
1/4 cup tahini
1/4 cup lemon juice
1/2 teaspoon granulated onion
1/4 teaspoon salt
2 tablespoons fresh minced parsley
Instructions
Place water in a saucepan and begin heating over high heat.
Add cauliflower and cover pan. Bring to boil, then reduce heat and simmer cauliflower until tender, but not soft. Watch closely to prevent scorching. Add more water if necessary, but to retain flavor do not add any more than needed.
Meanwhile, crush garlic with a garlic press and place in a small mixing bowl.
Add tahini, lemon juice, granulated onion, and salt to crushed garlic. Whisk together until mixture is smooth and creamy.
Stir in parsley.
When cauliflower is done, dress with tahini sauce and serve.
Recipe by JennifersKitchen at https://jenniferskitchen.com/2015/03/cauliflower-with-lemon-tahini-sauce.html