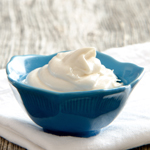 Vegan Soy-Free Sour Cream
Yield 2 cups
Thick, rich, and creamy, but not fattening.
Instructions
Place cashews in a colander and rinse under hot water. Set aside to drain.
Place 1 cup water and agar in a small saucepan, cover, and bring to boil. Reduce heat and simmer for one minute.
Meanwhile, place drained cashews, remaining 1 cup water (scant), oil, lemon juice, and seasonings in blender and blend until very smooth and creamy. (A heavy-duty blender works best for this recipe; other blenders may not get the mixture smooth enough.)
Add agar mixture to blender. Scrape pan out with a rubber spatula to be sure to get all of mixture. Blend until thoroughly mixed.
Place mixture in refrigerator to chill for at least two hours.
When mixture is thoroughly chilled and set, blend again until smooth and creamy.
Return to refrigerator to thicken.
Notes
Increase oil to 1/4 cup for a richer sour cream that tastes a little bit more like dairy sour cream.
I don't recommend making any less than a full recipe; the smaller amount won't blend well in the blender jar. If you don't need a full recipe (like for these Burritos), just make a full batch and bring the leftovers to me. I'll eat it.
Recipe by JennifersKitchen at https://jenniferskitchen.com/2015/01/vegan-soy-free-sour-cream.html