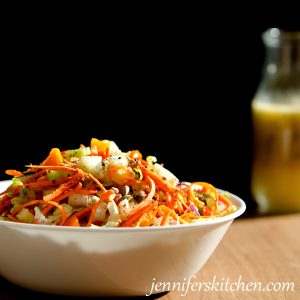 Crunchy Chopped Salad
Salad with crunch and flavor in every bite!
Ingredients
2 stalks celery, finely diced
2 small to medium carrots, coarsely shredded
1 clove garlic, crushed
1/4 cup finely diced red onion or sweet onion
1/3 cup lemon juice
2 teaspoons dried basil
1/2 teaspoons dried oregano
1/2 teaspoon raw sugar, such as turbinado sugar or evaporated cane juice sugar
1 small to medium cucumber
1/2 sweet bell pepper
1 1/2 cups finely chopped Romaine lettuce
2 tablespoons olive oil
1/4 cup hulled sunflower seeds (raw or toasted)
2 tablespoons pepitas (raw or toasted) – optional
1 1/2 teaspoons granulated onion
1 teaspoon salt
Instructions
Prepare celery, carrots, garlic, and onion. Place in mixing bowl.
Place lemon juice, basil, oregano, and sugar in a saucepan and bring to low boil. Remove from heat and pour over celery, carrots, garlic, and onion. Quickly toss to coat.
Place mixture in refrigerator to chill.
Before serving, finely dice pepper and chop lettuce. (Be sure lettuce is dry.) Peel and finely dice cucumber.
Add to chilled mixture.
Stir in oil, seeds, granulated onion, and salt. Mix well. Serve.
Recipe by JennifersKitchen at https://jenniferskitchen.com/2015/01/crunchy-chopped-salad.html