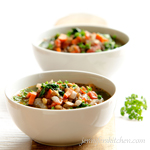 Winter Lentil Soup
Yield 11 cups
A hearty wintertime soup chock full of nutrition. Note that some of the seasoning amounts are in tablespoons; this isn't a typo.
Ingredients
2 medium yellow onions, peeled and diced small
2 tablespoons olive oil
1 medium carrot, peeled and diced small
1 stalk celery, diced small
1 medium sweet potato, peeled and diced medium
3 cups finely chopped kale
7 cloves garlic, minced
2 tablespoons fresh minced parsley
6 cups water or broth
3 1/2 cups (one 28-ounce can) diced tomatoes
1 1/2 cups (one 14-ounce can) tomato puree
1 tablespoon + 2 teaspoons granulated onion
1 tablespoon + 2 teaspoons dried oregano
1 tablespoon + 1 teaspoon dried basil
1 tablespoon dried minced onion
1/2 teaspoon paprika
1/2 teaspoon cumin
1/4 teaspoon dried thyme
1/4 teaspoon granulated garlic
1 1/4 teaspoons salt – see note
2 teaspoons raw sugar
1/2 cup uncooked lentils (sorted and rinsed in a colander)
Instructions
In a large soup pan, sauté onions in oil over medium heat until onions are translucent – about 8 minutes.
Add carrots, celery, and sweet potatoes, and continue sautéing for 6 to 8 minutes.
Stir in kale, parsley, and garlic. Sauté for 2 minutes or until kale is wilted and bright green.
Add water or broth and diced tomatoes. Turn heat to high.
Add seasonings and lentils, cover, and bring to boil.
Reduce heat and cook at a low boil for 45 minutes or until lentils are tender. Remove from heat and allow to sit (covered) for an additional 10 minutes to allow flavors to meld.
Notes
The amount of salt needed will depend on how much salt is in the diced tomatoes, broth, and tomato puree. If you use low-sodium version of these ingredients, you may want to increase the salt slightly.
Recipe by JennifersKitchen at https://jenniferskitchen.com/2014/12/winter-lentil-soup.html