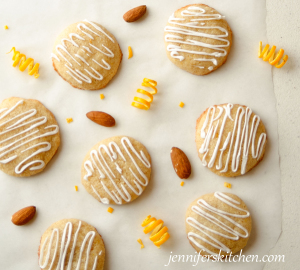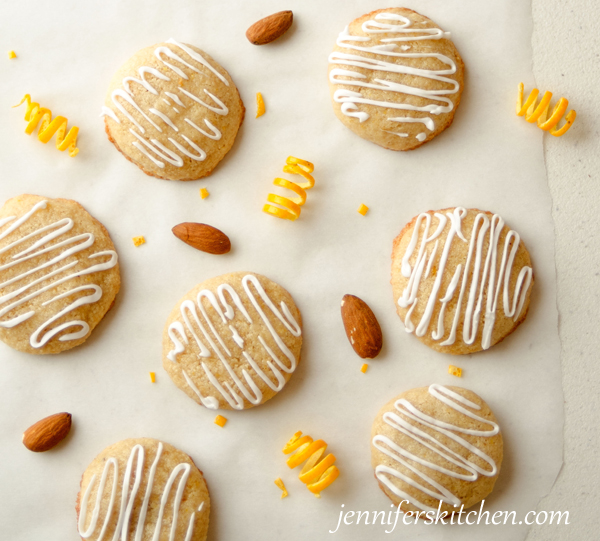 Gluten-Free Almond Orange Cookies
Yield 1 dozen cookies
A very healthy holiday cookie with wonderful flavor.
Instructions
Prepare baking sheet by covering with parchment paper. Preheat oven to 350°F.
Place almonds, salt, arrowroot, and oats in food processor and process until almonds are very fine and powdery.
Add orange zest and process until mixed. Set aside.
Mix together sugar, milk, and butter spread in a small saucepan. Bring to a full boil over medium heat, stirring often. (I use a heat-proof spatula to stir it.)
Allow to boil, stirring often, for 2 1/2 minutes. Remove from heat.
Stir in vanilla.
Immediately pour mixture over ground almonds in food processor. (I use a spatula to be sure I get all of the liquid out of the pan.) Pulse several times until thoroughly mixed.
Drop dough in 1-tablespoon-size balls onto parchment-lined baking sheet about 2 inches apart. If desired, roll cookies into balls or bake as is. (Dough will be somewhat sticky.)
Bake at 350°F for 12 to 14 minutes or until lightly browned on bottoms.
Remove from oven and allow to sit on baking sheet for 5 minutes to cool slightly. Remove from baking sheet and place on rack to cool completely.
Recipe by JennifersKitchen at https://jenniferskitchen.com/2014/12/gluten-free-almond-orange-cookies.html