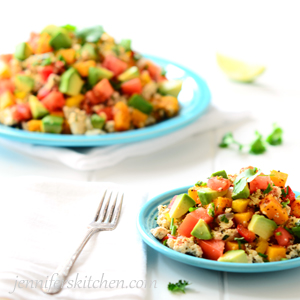 Butternut Tofu Scramble with Avocado
Ingredients
1 pound extra-firm tofu
2 tablespoons olive oil
1 1/2 cups peeled and diced butternut squash (cut into small pieces)
1 medium onion, diced
1/4 red or yellow bell pepper, diced
1 1/2 teaspoon dried basil
1 1/2 teaspoon dried oregano
1 1/2 teaspoon dried parsley
1 1/2 teaspoon granulated onion
1/2 teaspoon cumin
1/2 teaspoon paprika
1/2 teaspoon dried cilantro or 2 teaspoons fresh minced
1/4 teaspoon garlic powder or granulated garlic
1 teaspoon salt
2 cloves garlic, minced
1 large plum tomato or about 7 cherry tomatoes, halved
2 green onions, sliced
1 small avocado, diced small
Instructions
Place tofu in colander to drain and set aside. OR gently press out water using a tofu press.
In a large, wide-bottom pot, heat oil over medium-high heat. When oil is warm, add diced squash and briefly stir to coat squash with oil. Saute for 3 minutes, stirring occasionally.
Dice onion and pepper and add to squash. Stir.
Squeeze excess liquid from tofu and crumble over vegetables.
Add seasonings and mix well.
Cook over medium high to high heat, stirring occasionally, for 8 to 10 minutes or until vegetables are tender and some of the tofu is very lightly browned. See note.
Stir in minced garlic and cook for one minute.
Stir in cherry tomatoes. Cook until tomatoes are warm (about one minute) and then remove from heat.
Serve topped with green onions and avocado.
Notes
Be sure to squeeze as much liquid as possible out of the tofu.
Recipe by JennifersKitchen at https://jenniferskitchen.com/2014/10/butternut-tofu-scramble-with-avocado.html