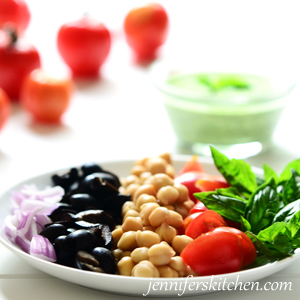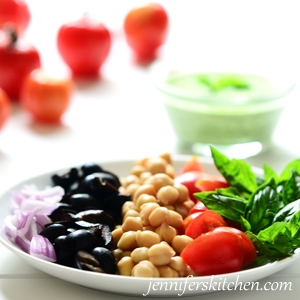 Garbanzo (Chickpea) Pesto Salad
Yield 4 servings
A quick and easy main dish salad takes less than 10 minutes to make. This dish tastes best with crock-pot- or Instant Pot-cooked garbanzo beans.
Ingredients
3 cups garbanzo beans, drained (I recommend using crock-pot- or Instant Pot-cooked garbanzo beans in this recipe)
1/2 medium red onion, diced
1/4 cup olive halves – optional
1 medium tomato, diced
2 medium cloves garlic
1 cup packed fresh basil leaves
1/4 cup packed fresh parsley leaves
2 tablespoons olive oil – optional
1/4 cup Creamy Italian Dressing
2 tablespoons lemon juice
1 teaspoon salt, or to taste (see note)
Instructions
Place drained garbanzos in a mixing bowl.
Gently mix in onion, olives, and tomatoes.
Place garlic, basil, parsley, oil, dressing, lemon juice, and salt in food processor and process until mixture is thoroughly combined and basil and parsley are chopped very, very fine.
Stir basil mixture into garbanzos.Serve immediately.
Notes
The amount of salt needed in this dish will depend on the amount already in the garbanzo beans.
Recipe by JennifersKitchen at https://jenniferskitchen.com/2014/09/garbanzo-chick-pea-pesto-salad.html