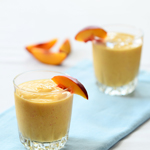 Fresh Peach Coconut Smoothie
Sugar free, naturally sweet, creamy, and refreshing.
Ingredients
1/2 cup full-fat, canned coconut milk
1 1/2 cups diced, fresh peaches
2 medium frozen bananas
1/2 teaspoon vanilla
Instructions
Place coconut milk and fresh peaches in blender. If you have a heavy-duty blender, you can leave the peels on the peaches; they will blend up nicely.
Add frozen bananas and blend until very smooth. Do not overblend or mixture will lose its frostiness.
Recipe by JennifersKitchen at https://jenniferskitchen.com/2014/09/fresh-peach-smoothie.html