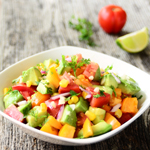 Avocado Tomato Salad
This zippy salad can also be used as salsa.
Ingredients
2 cloves garlic, minced
1/4 red onion, diced small
2 tablespoons lime juice, scant
1 tablespoon olive oil – optional
1 tablespoon finely chopped fresh cilantro
1/4 cup fresh corn kernels – optional
1 teaspoon granulated onion
1/2 teaspoon dried parsley
1/4 teaspoon dried basil
2 medium avocados, peeled and diced
2 small to medium tomatoes, diced
1/2 teaspoon salt, or to taste
Instructions
Mix together all ingredients, except avocado, tomato, and salt, and mix well.
Immediately before serving, gently stir in avocado, tomato, and salt.
Serve.
Notes
Make Ahead Tip: Salad can be made ahead of time by leaving out the avocado and tomato and adding these immediately before serving.
Recipe by JennifersKitchen at https://jenniferskitchen.com/2014/09/avocado-tomato-salad.html