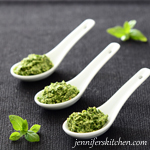 Oil-Free Basil Pesto
Yield 1 cup
Not your traditional pesto, but a delicious and healthy alternative.
Ingredients
1/2 cup raw walnuts or pine nuts – divided
1 to 2 cloves garlic
1/2 teaspoon salt, scant
2 cups packed fresh basil leaves
1/2 cup mashed avocado
1/4 cup cooked white beans with liquid or mashed silken tofu
2 tablespoons lemon juice, scant
Instructions
Place 1/4 cup walnuts, garlic, and salt in food processor and process until coarsely ground.
Add remaining nuts, basil, white beans (or tofu), avocado, and lemon juice and process until nuts and basil is finely chopped. Serve immediately.
Recipe by JennifersKitchen at https://jenniferskitchen.com/2014/08/oil-free-pesto.html