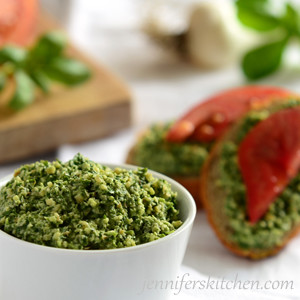 Skinny Walnut Basil Pesto
Yield about 1/2 cup
A slimmed-down, vegan version of basil pesto.
Ingredients
2 cups (lightly packed) fresh basil leaves
1/2 cup raw walnuts
1 to 2 cloves garlic, crushed
1/4 teaspoon salt – or to taste
1/4 cup olive oil
1 tablespoon lemon juice
Instructions
Place basil, walnuts, garlic, and salt in food processor and process until coarsely ground.
With motor running, add olive oil in a thin stream.
Add lemon juice and pulse to mix. Serve immediately.
Recipe by JennifersKitchen at https://jenniferskitchen.com/2014/07/slimmed-down-walnut-basil-pesto-video.html