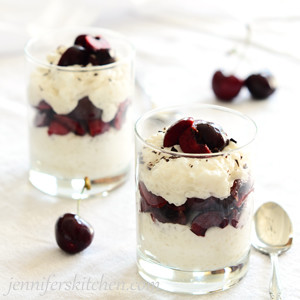 Cherry Coconut Tapioca Pudding
Yield 4 to 6 servings
Low in sugar, refined fat-free, and cholesterol-free, this Cherry Tapioca Pudding is quite a healthy dessert. And it's gluten-free and vegan!
Instructions
Place tapioca, almond milk, sugar, and salt in a medium saucepan and begin heating over medium-high heat.
Stir in coconut milk. Bring to boil stirring constantly. Continue cooking, stirring constantly, for 1 minute or until mixture thickens. (I use my heat-proof spatula for this.) Remove from heat.
Stir in vanilla. Mixture will thicken more as it cools. Serve with fresh, pitted cherries.
Notes
For a richer, creamier pudding, sometimes I add a couple spoonfuls of coconut cream to the tapioca pudding when it's done.
Recipe by JennifersKitchen at https://jenniferskitchen.com/2014/07/cherry-coconut-tapioca-pudding.html