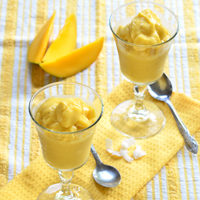 Mango Banana Smoothie
Yield 1 delicious smoothie
This naturally sweet smoothie is a delicious summertime treat and also doubles as a healthy sauce for Wonderful Waffles.
Ingredients
1/4 cup coconut milk
1 medium very ripe banana (I like to use a frozen banana, but you can use fresh one.)
1 cup frozen mango dices
1 teaspoon vanilla
Instructions
Place all ingredients in blender in order listed. A high-powered blender works best for this.
Blend until smooth. Serve immediately.
Notes
For the sweetest taste, be sure to use a banana that is very ripe.
Recipe by JennifersKitchen at https://jenniferskitchen.com/2014/06/mango-banana-smoothie.html