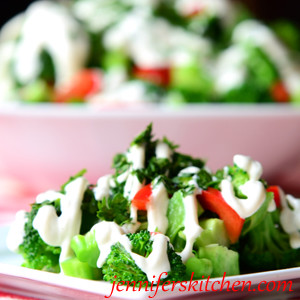 Low-Fat, Mayo-Free Broccoli Salad
Yield 2 to 3 servings
Easy to make, super healthy, and, unlike most broccoli salad recipes, not fattening.
Ingredients
1/3 cup water
3 1/2 cups diced raw broccoli
2/3 cup raw cashews
1/4 cup lemon juice
2 tablespoons lime juice
2 tablespoons olive oil
2/3 cup water
1 clove garlic
1 - 2 teaspoons raw sugar or evaporated cane juice
2 teaspoon granulated onion
1 teaspoon salt
1/3 cup diced fresh, red bell peppers
2 tablespoons fresh minced cilantro
Instructions
Place 1/3 cup water in a saucepan and bring to a low boil.
Add broccoli and cover. Cook over high heat for 2 minutes. (Watch closely to avoid burning.) Remove from heat, transfer to a colander and rinse under cold water to stop cooking and chill broccoli.
Place cashews, lemon juice, lime juice, oil, 2/3 cup water, garlic, sugar, onion powder, and salt in blender and blend until very, very smooth. (This works best using a high power blender.)
In a mixing bowl, combine diced peppers and cold broccoli.
Stir in blender mixture and fresh cilantro.
Chill.
Notes
This recipe makes a lot of dressing (because I like a lot of dressing). If you prefer less, simply mix in the desired amount and use the remainder over baked potatoes or on bread. It'll keep in the frig for about 5 days.
For the photo, I drizzled the dressing over the broccoli because I thought it was prettier; but I typically mix the dressing into the salad.
Variation: Add 1/4 cup finely diced red onion when adding peppers.
Recipe by JennifersKitchen at https://jenniferskitchen.com/2014/06/low-fat-mayo-free-broccoli-salad.html