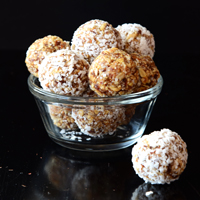 Coconut Date Bites
Yield 10 - 12 bites
These healthy bites are super easy to make.
Instructions
If dates are very hard, place in saucepan with 2 scant tablespoons water, cover, bring to boil, and then remove from heat. If dates are soft, go to step 2.
Place coconut in food processor and process until fine. Remove 3 tablespoons coconut, place in a medium bowl, and set aside.
Add almonds and salt to food processor and process until almonds are fine.
Add dates and process until dates are very, very finely chopped (almost pureed) and mixture starts to stick together a little. (If you continue to blend, and it doesn't start to stick together, add more dates. See note below this recipe about different kinds of dates.)
Add granola and vanilla and process until mixture starts to stick together.
Roll/squeeze/pack dough into balls. I use my cookie scoop to help with this.
Rolls balls into extra coconut (from step 2).
Makes 10 to 12 balls. Can be stored in freezer.
Notes
If you don't want to bother with rolling the balls in extra coconut, reduce coconut amount in recipe to 3/4 cup.
Recipe by JennifersKitchen at https://jenniferskitchen.com/2014/03/no-bake-coconut-date-bites.html