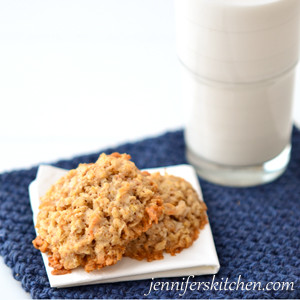 Coconut Chewy Crispies
This healthy cookie is light and crispy and just a little bit chewy.
Instructions
Place flax meal and very hot water in a small to medium bowl. Stir together. Set aside.
With an electric mixer, cream together oil and sugar in a mixing bowl. Beat very well on high speed. This may take a few minutes. Raw sugar and a small amount of oil take longer to cream together than do white sugar and a lot of butter. Set aside.
Beat flax meal and water mixture on high speed for 1 1/2 minutes. Flax mixture should be very fluffy and stretchy.
Pour flax mixture into oil and sugar mixture and mix on high speed for 1 minute.
Add coconut milk, vanilla, and salt and beat on high speed until very thoroughly mixed.
Add almond meal and mix well.
Stir in oats, coconut, and rice cereal. Mix until all ingredients are thoroughly incorporated. (I use a spoon for this step.)
Drop by teaspoonfuls onto oiled baking sheet.
Bake at 350°F for 18 to 20 minutes or until lightly browned on the bottom and edges. Allow to rest on baking sheet for 1 to 2 minutes before removing to rack to cool.
Notes
See notes in post above for more information on the ingredients and mixing directions for Coconut Chewy Crispies.
Recipe by JennifersKitchen at https://jenniferskitchen.com/2014/02/coconut-chewy-crispies.html