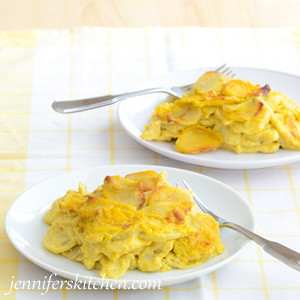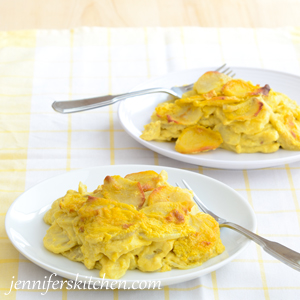 Skinny Scalloped Potatoes
Yield 6 servings
Unlike the traditional version, these scalloped potatoes won't add pounds to your weight loss plan.
Ingredients
3/4 cup raw cashews
3/4 cup water
2 1/2 teaspoons salt
1 teaspoon granulated onion
1/2 teaspoon granulated garlic
2 tablespoons olive oil
4 cups water - divided
10 medium potatoes or 7 large potatoes
paprika and parsley for garnish
Instructions
Place cashews, 3/4 cup water, salt, granulated onion, and granulated garlic in blender and blend until very smooth. (A heavy-duty blender works best for this recipe; other blenders may not get the mixture smooth enough.)
Add oil and 2 cups of the water. Blend.
Scrub potatoes and peel if desired. Slice potatoes into thin slices. Place in an oiled 9" x 14" baking dish.
Pour half of blender mixture over top of potatoes.
Add remaining 2 cups of water to the blender and blend briefly. Pour over the potatoes.
Cover and bake at 350°F for 50 minutes.
Uncover and bake for an additional 40 minutes. Serve hot.
Notes
With a food processor to cut the potatoes, this dish can be prepared in as little as 15 minutes.
Recipe by JennifersKitchen at https://jenniferskitchen.com/2014/01/skinny-scalloped-potatoes-gluten-free.html