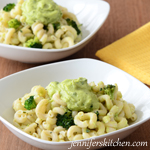 Pasta with Broccoli, Avocado Sauce
Rich and creamy pasta that isn't fattening.
Ingredients
8 ounces uncooked pasta (I recommend Tinkyada pasta)
5 cups raw broccoli florets and tender stems
1/2 cup water
2 tablespoons olive oil
1 medium sweet onion
1/4 cup lemon juice
2 small cloves garlic or 1 large clove
3/4 cup drained white beans
2 teaspoons granulated onion
1 1/4 teaspoons dried oregano
1 teaspoon dried basil
1 teaspoon salt
1/2 teaspoon honey - optional
1 cup mashed Hass avocado (about 2 medium avocados – see note)
Instructions
Cook pasta according to directions on package.
Meanwhile, cut broccoli into bite-size pieces. Cut stems a little smaller than florets since florets cook faster. Set aside.
In a large saucepan or a pot, sauté onion in oil over medium (not high!) heat until just beginning to appear translucent (about 7 to 9 minutes). Do not brown onions.
Stir broccoli and 1/2 cup water into onions. Cover, turn heat to medium-high, and steam until tender but not mushy (about 7 to 9 minutes). Watch closely and add a tablespoon or two more water if needed.
Place lemon juice, garlic, beans, seasonings, and honey in food processor. Process until very smooth. (Be sure garlic gets pureed.)
Add mashed avocado to food processor. Process until thoroughly mixed.
When pasta is done, drain and then immediately return pasta to the pan it was cooked in.
Add avocado mixture to pasta and mix well. (Or you can stir in half the avocado mixture and serve the remainder on the side to dollop on top of pasta.)
Stir in broccoli and onions. Serve immediately.
Notes
1. There should be very little water left in broccoli after cooking; therefore there should be no need to drain it.
2. If you have a little extra avocado, you can add up to 1/4 cup extra mashed avocado without negatively affecting the results, but any more than 1/4 cup will dilute the seasonings too much.
Recipe by JennifersKitchen at https://jenniferskitchen.com/2014/01/pasta-with-broccoli-avocado-sauce.html