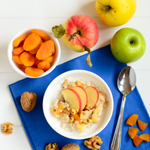 Harvest Oatmeal
Yield 1 to 2 servings
A delicious way to include more slimming whole grains in your diet.
Ingredients
2 3/4 cups almond milk
1/8 teaspoon salt
1 cup uncooked quick oats (use gluten-free oats if desired)
1 medium apple (about 1 1/3 cup diced apple)
1/4 cup chopped walnuts
2 tablespoons honey or pure maple syrup – optional
1/2 teaspoon vanilla
Instructions
Place milk and salt in a medium saucepan.
Stir in oats, cover, and begin heating over medium-high heat.
Meanwhile, cut the apple into small pieces and stir into oats.
Cut apricots and figs into small pieces. (I cut the apricots into 4 pieces and the figs into 6 pieces.)  Stir these into oatmeal when it comes to a boil.
Reduce heat and simmer, covered, for 10 to 15 minutes, stirring often to prevent oats from sticking to the bottom of the pan.
When oatmeal is done, stir in walnuts, sweetener, and vanilla. Serve hot.
Notes
Be sure to trims stems from figs before adding to oats.
This recipe makes enough to serve 2 people if there are other foods served with it (like toast or fruit, etc.)
Recipe by JennifersKitchen at https://jenniferskitchen.com/2013/11/harvest-oats.html