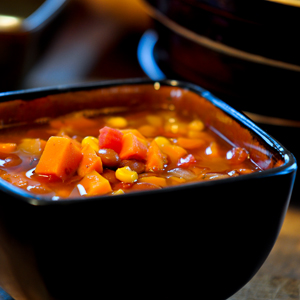 Chilean Porotos Granados
Porotos Granados is a popular dish from Chile. It's served in late summer when cranberry beans and squash are fresh.
Ingredients
1 medium onion, diced
2 tablespoons olive oil
2 cloves garlic, minced
1 1/2 cup diced tomatoes (canned or fresh)
1 teaspoon dried oregano
1 teaspoon onion powder or granulated onion
1/2 teaspoon dried basil or 1/2 tablespoon chopped fresh basil
1/2 teaspoon cumin
1/4 teaspoon paprika
1 medium butternut squash, peeled and diced (about 3 cups)
3 cups water, stock, or broth
2 cups cooked cranberry beans, red beans, or pinto beans
1 1/2 cups corn kernels
1 teaspoon salt, or to taste
Instructions
In a large soup pan, sauté onion in oil over medium heat until they begin to look translucent.
Add garlic and sauté for 1 additional minute.
Stir in tomatoes and seasonings and continue cooking for another 5 to 10 minutes, stirring often.
Meanwhile, peel squash. Remove seeds and cut into 1-inch cubes (approximately).
Stir in cubed squash, water (or stock or broth), and beans. Bring to boil, then reduce heat, and simmer, uncovered, for 30 minutes or until squash is very soft and has begun to fall apart.
Add corn and salt to taste. Cook until heated through. Serve hot.
Notes
If you like a more tomato-y soup, increase diced tomatoes to 1 1/2 cups.
Recipe by JennifersKitchen at https://jenniferskitchen.com/2013/09/chilean-porotos-granados.html