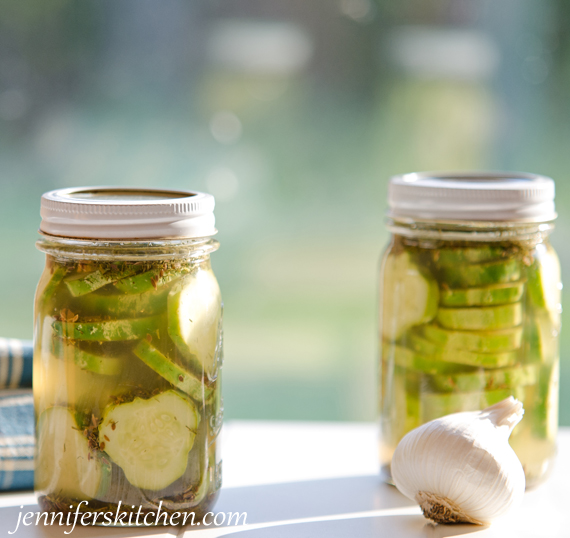 Refrigerator Pickles
Cool and crisp refrigerator lemon pickles.
Ingredients
1 clove garlic, cut in half
4 small cucumbers (pickling cucumbers work best)
2 teaspoons dill seed
2 - 3 teaspoons salt, depending on taste
1/3 cup lemon juice
1 teaspoon apple juice concentrate – optional
1 1/2 cups water, approximately
Instructions
Place garlic in a quart jar.
Wash cucumbers and cut into slices.
Place cucumber slices in jar along with dill, salt, and lemon juice (and apple juice if desired).
Bring water almost to a boil. Pour very hot water into jars until cucumbers are covered.
Screw lid on jar and place in refrigerator. (I always give the jar a gentle shake before placing in frig – just to make sure ingredients are mixed well.)
Wait at least 24 hours before serving. The pickles will taste even better after two days of marinating.
Recipe by JennifersKitchen at https://jenniferskitchen.com/2013/08/refrigerator-pickles.html