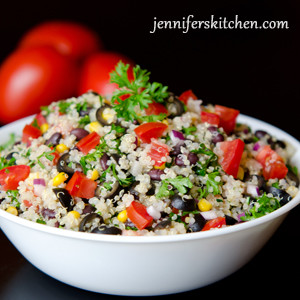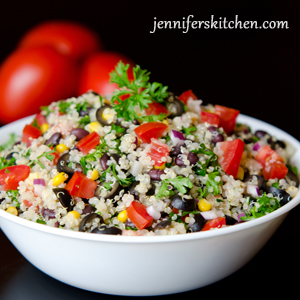 Mexican Quinoa Salad
Yield 4 servings
Made from fresh vegetables and whole grain quinoa, this dish is highly-nutritious and makes a delicious picnic dish.
Ingredients
3 cups cooked quinoa (3/4 cup uncooked)
1/3 cup diced red onion
1 clove garlic, crushed
3/8 cup lemon juice
1/2 cup finely chopped fresh parsley
1/4 cup finely chopped fresh cilantro
1 teaspoon dried oregano
1 teaspoon granulated onion
1/2 teaspoon dried basil
1/2 teaspoon cumin
1/4 teaspoon granulated garlic
1 teaspoon salt – or to taste
1 1/2 cups (one 16–ounce can) cooked black beans, rinsed and drained
1 1/2 cups (one 15-ounce can) corn, drained
1/2 cup (one 2.25-ounce can) sliced black olives
2 - 4 tablespoons olive oil
1 medium fresh tomato, diced small
1/2 medium red bell pepper – optional
Instructions
Mix together cooked and cooled quinoa, diced onion, garlic, and lemon juice in a large mixing bowl.
Finely chop parsley and cilantro. (A food processor works well for this.)
Stir into quinoa along with seasonings, black beans, corn, and olives.
Stir in oil, tomato, and pepper, immediately before serving.
Serve at room temperature or chilled.
Notes
For a heartier dish, add an additional 1 1/2 cups (one 16-ounce can) black beans.
Recipe by JennifersKitchen at https://jenniferskitchen.com/2013/05/the-secret-to-great-tasting-quinoa.html