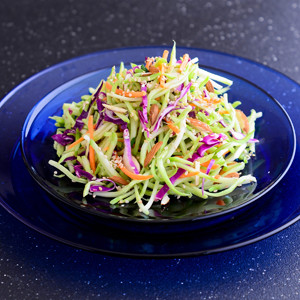 Crunchy Asian Broccoli Salad
This tangy salad is not only quick to make, but is an amazingly delicious way to get more raw veggies into your diet.
Ingredients
5 - 6 cups (one 16-ounce package) broccoli slaw (see note below)
5 green onions, sliced thin
1/4 cup olive oil, scant
1/4 cup lemon juice (see weight loss tip at the bottom of this post)
2 tablespoons apple juice concentrate, scant
1 tablespoon orange juice concentrate
2 teaspoons granulated onion
1 teaspoon salt, or to taste
3/4 teaspoon granulated garlic
1 tablespoon dehydrated red bell peppers – optional (see note below)
1/4 cup sliced raw almonds
1/4 cup sesame seeds or sunflower seeds
Instructions
Place broccoli slaw and onions in a large mixing bowl.
Whisk together oil, lemon juice, apple juice concentrate, and seasonings. (This can be done in the glass measuring cup that you measure the oil in to reduce the amount of dishes dirtied.)
Pour this mixture over broccoli slaw and toss together well until slaw is completely coated with the dressing mixture.
Add almonds and seeds and mix.
Can be served immediately or chilled before serving.
Recipe by JennifersKitchen at https://jenniferskitchen.com/2013/04/crunchy-asian-broccoli-salad.html