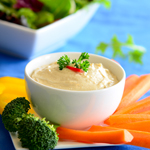 Tahini Dip
A high-fiber dip that's free of refined fats and full of vitamins and minerals.
Ingredients
1/2 cup tahini
1/4 cup lemon juice, scant (fresh, if possible)
1 clove garlic, crushed or 1/8 teaspoon garlic powder
1/2 teaspoon onion powder
1/2 teaspoon salt
1/4 cup water (or to desired consistency)
Instructions
Stir together tahini, lemon juice, garlic, onion powder, and salt with a fork. Mixture will become very thick.
Add about 3 tablespoons of the water and whip together with fork until mixture is very smooth and dressing becomes thick. Add more water if needed to achieve desired consistency.
Recipe by JennifersKitchen at https://jenniferskitchen.com/2013/02/tahini-dip-2.html