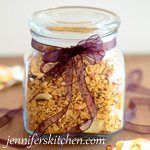 Apple Walnut Granola
Fruit, nuts, and whole grains - a healthy, hearty way to start the day!
Instructions
In a large mixing bowl, stir together juice concentrate, applesauce, maple syrup, oil, and vanilla.
In a separate bowl, mix together oats, walnuts, sugar, and salt.
Stir oat mixture into liquid ingredients.
Spread mixture about 1/2 inch thick on baking sheet. Bake at 250°F for 35 minutes. Remove from oven and stir. Return to oven and bake for an addition 30 minutes or until granola is golden brown.
Baking time will vary depending on oven, type of baking sheet used, and how thick the granola is on the baking sheet.
When granola is golden brown, turn oven off and leave granola in oven until completely dry.
When granola is done, it should be lightly browned and completely dry.
Remove from oven to cool.
When granola is cool, stir in dried apples.

Store in a cool place in an airtight container.
Recipe by JennifersKitchen at https://jenniferskitchen.com/2013/01/apple-walnut-granola.html