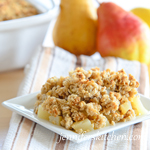 Autumn Pear Crisp
Honey-sweetened pears are baked under a flavorful topping of whole grain oats and omega-3-rich walnuts.
Ingredients
TOPPING
FILLING
2 tablespoons apple juice concentrate
2 tablespoons honey or other sweetener
2 tablespoons cornstarch or arrowroot powder
7 medium pears
Instructions
Place oats, flour, sugar, salt, and oil in food processor and pulse just until mixed. Mixture should resemble coarse crumbs. Do not over mix – you don't want the oats to turn to flour.
Add honey and pulse several times until mixed. Mixture should be crumbly, but moist. Add a tablespoon or so of water or apple juice if needed to make the mixture moist.
Add nuts and process just until mixed. Set aside.
Stir together juice concentrate, honey, and cornstarch or arrowroot in a large mixing bowl.
Wash and peel pears. Cut in half lengthwise and remove core. Dice into small (1/2-inch) pieces and place into bowl. Mix well. (I use my food chopper to cut the pears quickly so they don't turn brown.)
Transfer pear mixture to an oiled 8-inch x 8-inch baking dish. Evenly distribute topping mixture over pears.
Cover and bake at 350°F for 15 minutes. Remove cover and bake for an additional 15 to 20 minutes or until topping in nicely browned. Different varieties of honey will cause the topping to brown at different rates, so adjust baking time as needed. Serve warm or cold.
Notes
1. Regular rolled oats work best in this recipe, but quick-cooking oats will work fine too.
2. If you'd like a less sweet crisp, reduce the amount of sugar in the topping.
3. A food processor makes an easy job of mixing, but if you don't have a food processor you can use a fork to mix the ingredients.
Recipe by JennifersKitchen at https://jenniferskitchen.com/2012/11/pear-crisp-good-things-come-in-pears.html