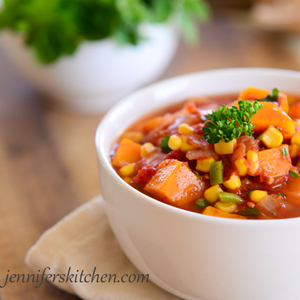 Chunky, Tomato-y Butternut Squash Soup
Ingredients
1 medium to large butternut squash
1 medium yellow onion, diced
1/2 medium green bell pepper, diced
2 tablespoons olive oil (for pan cooking; may be omitted for cooking in slow cooker )
2 cloves garlic, minced
1 cup water or broth
7 cups (two 29-ounce cans) diced tomatoes
1 tablespoon dried parsley
1 teaspoon onion powder or granulated onion
1 teaspoon dried basil
1 teaspoon dried oregano
1 cup corn kernels
1/2 teaspoon salt – or to taste
Instructions
PAN COOKING INSTRUCTIONS
In a large soup pot, saute diced onion, diced pepper, and squash in approximately 2 tablespoons olive oil over medium-high heat until onions begin to appear translucent.
Add garlic and saute for one minute, stirring constantly.
Add water or broth and tomatoes. Bring to boil.
Stir in seasonings and corn and reduce heat to simmer. Cook until squash is soft.
Add salt to taste.
CROCK-POT COOKING INSTRUCTIONS
Place squash in crock-pot.
Add diced onion, diced pepper, water, and tomatoes.
Cook on high for 7 to 8 hours. (Because all slow cookers vary in temperature, cooking time may vary.)
Stir in seasonings and corn. Replace lid quickly to avoid too much heat loss.
Cook for an additional 20 minutes to 1 hour. Squash should be very soft.
Notes
The amount of water given works well for most slow cookers. If your cooker tends to lose more or less water than most, you may need to adjust the water amount in the recipe.
For best results, do not lift the lid during cooking process. Cooking time may very depending on your slow cooker.
Recipe by JennifersKitchen at https://jenniferskitchen.com/2012/10/butternut-squash-soup.html