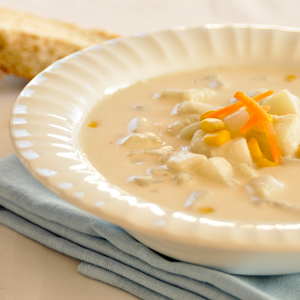 Cream of Potato Soup
A creamy soup without the fattening cream. Serve with a salad and bread for a very satisfying meal.
Ingredients
2 stalks of celery
1 medium onion, diced
1 tablespoon olive oil
8 medium potatoes
4 cups water
2 tablespoons dried parsley
1 tablespoon granulated onion
1/4 teaspoon granulated garlic
1/4 teaspoon dried basil
pinch dried sage
3/4 cup raw cashews
1 cup water, scant
2 teaspoons salt
Instructions
In a large soup pot, sauté diced onions and celery in oil over medium-low heat until onions begin to look translucent.
Wash and peel potatoes. Dice into bite-size pieces and place in soup pan along with 4 cups of water. Turn heat to high.
Add seasonings, cover, and bring to boil. Reduce heat and simmer until potatoes are tender, but not mushy (about 10 to 15 minutes, depending on the size of the potato dices).
Meanwhile, place cashews, 1 cup of water, and salt in blender and blend until very smooth.
When potatoes are tender, stir in blender mixture, and cook until hot.Serve hot.
Notes
Potato Leek Soup: Sauté 1 sliced leek along with celery and onion.
Potato Garlic Soup: Add an additional three cloves of minced garlic to the sauté mixture in the last minute of sautéing.
Recipe by JennifersKitchen at https://jenniferskitchen.com/2009/03/cream-of-potato-soup.html