It was quite chilly here yesterday. No, it was downright cold.
(Ok, I received a call from my friend in Michigan and she reminded me that it's not that cold here, but it still feels cold to me.)
Looking through old photos, I found some of the garden tomatoes last year. Mmmm … I can hardly wait for summer.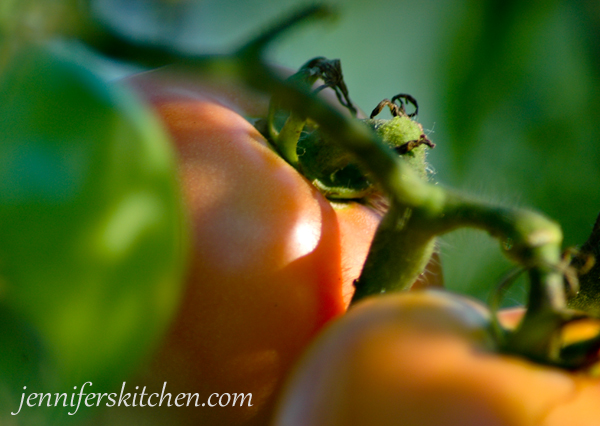 Meanwhile, chilly days are perfect for a slow-cooked soup or stew. So I slipped on an extra pair of cozy socks and peeked in the pantry.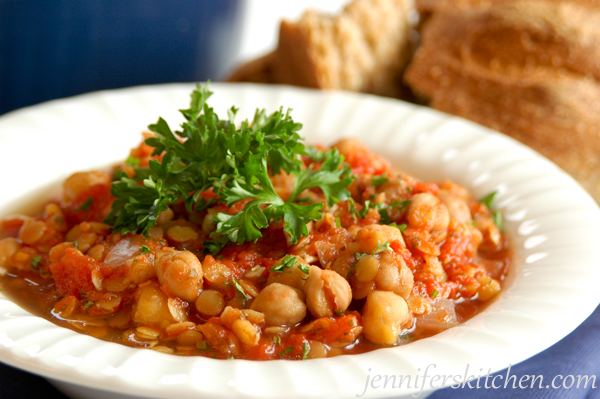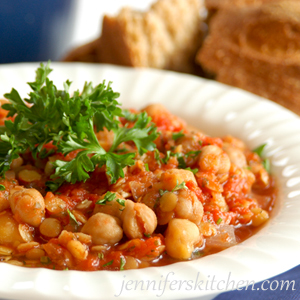 Print
Red Lentil Garbanzo Soup
Ingredients
2 tablespoons olive oil
2 medium onions, diced
2 cloves garlic, minced
4 cups water, stock, or broth
1 1/4 teaspoons dried basil
1 teaspoon onion powder or granulated onion
1 teaspoon dried oregano
1/2 teaspoon paprika
1 cup uncooked red lentils
1 (28 oz) can of diced tomatoes
1 (28 oz) can of crushed tomatoes
2 teaspoons blackstrap molasses
2 teaspoons concentrated orange juice - optional
2 cups cooked garbanzo beans (chick peas)
1 teaspoon salt or to taste
Instructions
In a soup pot, lightly sauté diced onions in olive oil over medium heat for about one minute.
Stir in minced garlic and sauté for an additional minute. (Don't allow garlic to brown.)
Add seasonings and stir. Add water (or stock or broth) and increase heat to high.
Rinse red lentils in a colander and add to soup. Cover and bring to boil.
When mixture comes to a boil, stir in tomatoes, molasses, and juice. Return to boil and then reduce heat.
Simmer for 50 minutes, stirring occasionally.
Stir in garbanzo beans and continue cooking for 10 minutes.
Add salt to taste. The amount of salt needed will depend on the amount already in the tomatoes and garbanzos.
Notes
I've made this in my slow cooker in the past, but it's been a while so I don't remember the exact cooking time for it (although the words "exact" and "slow cooker" probably don't belong in the same sentence.) However, slow cookers are very forgiving when it comes to soup cooking times. I would probably cook the lentils and tomatoes for about 4 or 5 hours and then an additional hour once the garbanzos have been added. All slow cookers are different, so experiment with yours to find the best cooking times.
Weight Loss Tip:
By the way, with all the fabulous fiber in this soup, it fits quite nicely into my 14-Day Weight Loss Program… and those size 4 jeans.
Packed Lunch Tip:
This soup makes for a very filling lunch and travels well in a thermos.
Popular Posts