This resource is a part of the Jennifer's Kitchen Weight Loss Program. If you aren't already a member, we would love to have you join us!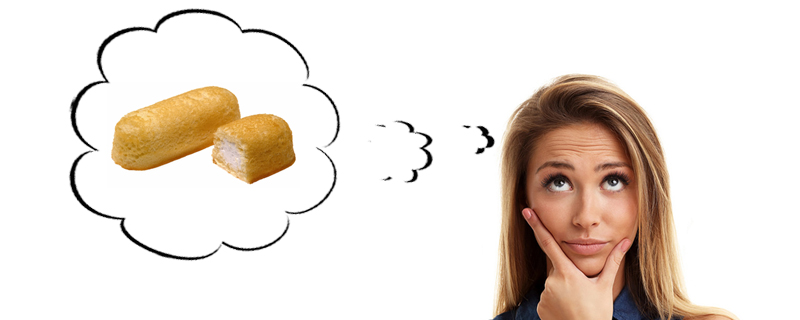 It's 7:30 p.m., and that out-of-sight-but-not-out-of-mind package of Twinkies – the one you stuck behind the well-meaning bag of brown rice – is calling your name. And you were doing so well with eating healthfully!
What's up?!
Though it may seem that cravings follow neither rhyme nor reason, research shows that there are actually many biochemical aspects to the development of these nearly irresistible urges. Everything from stress to eating spicy foods can trigger cravings and, while asserting more willpower may seem like the disciplined thing to do, knowing how your body works and what factors affect your appetite is a smart way to prevent those cravings in the first place.
Here are some of the most common causes of cravings and what to do about them.
1. Refined foods
Eating refined foods (like sugar, white rice, oil) causes your blood sugar levels to spike. Your body responds by releasing a large amount of insulin to quickly pick up the extra sugar, which, in turn, causes your blood sugar levels to drop. This plummet in blood sugar causes cravings.
In addition, refined foods reduce the effectiveness of long-term appetite stabilizing hormones like leptin, insulin, and ghrelin.
The solution?
To break this cycle, eat a hearty breakfast based on whole grains and fresh fruit. Later, be sure to have a filling lunch with plenty of vegetables and legumes and/or whole grains.
Replace refined foods with more healthful options.
2. Spicy food and spices
Spicy foods and spices irritant the digestive system and the nervous system and this can cause cravings for up to 14 days after the spicy food was eaten.
The solution?
Instead of seasoning food with spices, use herbs, such as onion, garlic, basil, oregano, dill, etc. Herbs are healthful and don't cause cravings. Check out this healthy Homemade Herb Seasoning.
3. Low-calorie diets
Low calorie diets reduce serotonin levels in your brain, which is associated with lack of concentration, fatigue, moodiness, irritability, anxiety, cravings, and weight gain.
The solution?
Eat!
While you don't want to overeat, you do need to eat enough to be satisfied.
For effective weight loss, you should be more concerned with what you eat than how much you eat. If you are eating a healthful diet that revolves around fruits, vegetables, whole grains, legumes, and a moderate amount of nuts, you shouldn't need to restrict portion sizes. You can eat enough to be satisfied and still lose weight … and avoid cravings.
4. Irregular eating times
The digestive system was designed to prepare for meals at regular times every day.  When you make a habit of feeding your body on a regular schedule, allowing about 5 hours between meals, you optimize this built-in regulating system and thus stabilize your appetite. However, if you vary the hours that you eat, your system gets confused, and this can cause cravings.
The solution?
Try to eat on a regular schedule as much as possible to encourage your digestive system to prepare for food at regular intervals. After several weeks of eating at regular times, you will notice that you have fewer cravings. Regular eating times has been shown to be especially helpful in preventing cravings associated with PMS.
5. Not eating a proper breakfast
Statistics show that those who skip breakfast are more likely to experience cravings and snack urges throughout the day.
The solution?
Be sure to give yourself enough time in the morning to eat a hearty breakfast. Keep fresh fruit and nuts on hand so you can grab something quick even if you sleep in and don't have time to sit down and eat.
6. Caffeine and related chemicals
The chemicals found in both caffeinated and decaffeinated coffee, as well as other caffeinated beverages, elevate stress hormones that alert the body to increase its energy stores, which results in an increased appetite and sometimes cravings for sweet foods.
The solution?
Avoid caffeine. Drink plenty of pure water! Check out this resource for help with quitting caffeine.
7. Alcohol
Not only does the consumption of alcohol increase cravings for high-fat foods, but also for nicotine, and alcohol itself.
The solution?
Completely avoid alcohol in all forms to avoid cravings. Alcohol not only causes cravings, but it causes weight gain as well.
8. Vinegar
Like alcohol, vinegar is a fermented substance and is an irritant to the stomach and the nervous system and can cause cravings.
The solution?
Substitute lemon juice in recipes that call for vinegar. (All the salad dressings recipes in the JK Weight Loss Program use lemon juice instead of vinegar.)
Be sure to read labels and avoid products that contain vinegar.
9. Artificial sweeteners
The brain and body have the innate ability to use the chemical makeup of food to gauge its caloric intake and thus regulate appetite. However, no-calorie sweeteners interfere with this natural ability.
The solution?
Eat real food and avoid artificial sweeteners.
If you live a healthy lifestyle that includes a whole-food, plant-based diet, the capacity to govern and balance food intake comes fairly naturally without much effort, and thus many cravings are avoided.
10. Insufficient water intake
Feelings that we interpret as hunger or cravings are often signs of chronic dehydration.
The solution?
Drinking plenty of water between meals will keep the body hydrated and help avoid cravings cause by insufficient water intake. It can take many days of extra water intake to correct chronic dehydration.
11. Snacking
Eating in between meals irritates the lining of the intestinal tract, which can stimulate the appetite even when no food is actually needed by the body.
The solution?
Avoid snacking.
Eating three healthful meals a day with nothing except water in between is a very effective weight loss method. Avoiding snacks will also keep your digestive system is good running order and help avoid cravings.
More about snacking in this video.
12. Habit
Sometimes what we view as a craving is not a craving at all, but a habit. For example, if you always eat a snack before bed, though it may seem like a craving or even true hunger, in reality your body and your mind have simply become accustomed to this ritual, and it has become a habit.
The solution?
Replace bad habits with good ones.
Once identified, a habit is most easily broken by replacing it with something better. For example, in our snack before bed problem, replace this habit with something that you enjoy more such as a walk, a phone call to a friend, a massage, or a relaxing bubble bath. The key is choosing an activity that you enjoy more than the bad habit, so you will not be tempted to return to the old routine.
13. Insufficient time outside
Without sufficient sunshine and fresh air, your serotonin levels may drop, which can cause you to have cravings, especially for refined foods.
The solution?
Try to make it a habit to go outside at least for a few minutes every day – especially in the winter months. This healthy habit will keep your hormones in balance and can help prevent cravings.
14. Stress
It probably goes without saying that stress can trigger overeating or a binge on junk food.
The solution?
Spending some time outside is an excellent way to manage stress. Forming new habits in response to stress will help, too. Instead of turning to food when stressed, learn to turn to other enjoyable, yet more healthful, activities, such as gardening or walking.
15. Insufficient sleep
During the early hours of the night while you are sleeping, your body releases certain hormones that help you manage stress and control your appetite. If you miss this sleep, the levels of these hormones fall.
The solution?
Going to bed early and getting at least 8 hours of sleep can help boost the level of the hormones that will help avoid cravings.
More about sleep and weight loss.
16. Hormones
Hormonal changes (especially those that occur before menstruation) or an imbalance of hormones can cause cravings.
The solution?
Sufficient fiber intake, avoiding meat and dairy products, and getting plenty of sleep will help to properly balance hormones.
17. Memories and associations
Sometimes people crave foods that they associate with happy times in the past.
The solution?
Rather than looking at junk foods as something you desire or as a reward, retrain your mind to think of them as extra calories that won't make you feel good and will cause your health to suffer.
And then, outsmart your cravings by replacing the old associations with something more healthful. Create new, healthy memories and associations.
18. Boredom
Perhaps you sometimes find yourself reaching for something to munch on simply because you are bored.
The solution?
Prevention is the best medicine here. Have noble purposes and worthwhile goals in life. If you have time on your hands, make a plan to keep yourself busy with meaningful activities. Consider doing volunteer work or helping someone in need.
19. Other miscellaneous food additives and sneaky ingredients.
Here is a list of other ingredients that can cause cravings.
Is Your Sweet Tooth Still Eating You?
Following the advice above will greatly reduce your cravings for junk food. But, if despite your efforts, you still find yourself with a strong urge to cuddle up with a candy bar, try the suggestions below.
1. Take a walk
Research shows that outdoor exercise – even just a leisurely stroll – encourages the body to produce mood-boosting serotonin which can help fight those cravings.
2. Brush your teeth
Brushing your teeth and your tongue makes food less appealing. This works especially well for if you are a nighttime nibbler. By brushing your teeth early in the evening and starting your bedtime routine, you suggest to your mind that you are finished eating for the day and preparing for sleep.
3. Wait it out
Sometimes the way to maneuver through a craving is to simply wait it out.
4. Write it down
Try keeping a journal of what you crave, when you crave it, what is happening in your life at the time, and how you are feeling before and during your craving.
Seeing a pattern and understanding your triggers will enable you to break the cycle.
For example, if your journal shows that you experience cravings every day at 4:00 p.m., you can plan another interesting and enjoyable activity – away from food – at that time.
5. Remove the temptation
Remove the junk food from your home and, as far as possible, from your workplace, and you'll have a much easier time avoiding the temptation. You can't eat it if it's not there.
6. Plan ahead
Even if you no longer keep junk food around, this doesn't prevent others from offering it. Suppose every Monday morning free doughnuts and coffee are served at your office. You can't just not show up for work on Mondays, so what can you do?
If those in charge of the a.m. fest won't consider eliminating the office snacks, put in place a plan to help you resist the temptation to indulge.
For example, you might be able to use this time to run errands for work.
Or, you could bring your breakfast to work on Mondays. While everyone is eating junk food, enjoy your breakfast. Make sure to pack your favorite nutritious foods and include a healthful treat like some dates or dried apricots. Even if it isn't as enticing as doughnuts, you'll be too busy eating your own food that the doughnuts will never make it to your lips.
7. Make it a habit to eat only in a certain place, such as the kitchen table.
By eating only at a pre-established location, your mind will eventually make the association, and the temptations to eat something at times other than mealtime will weaken.
Avoiding the Junk Food Trap
With a little adjustment to your food choices, your surroundings, and your mindset, you can significantly reduce your struggle with cravings.