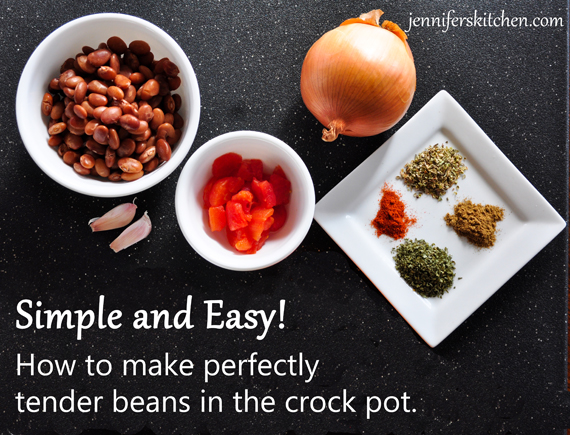 Several of you have emailed and asked how I cook beans, so I thought I would answer it here.
Dinner is Ready When You Are
The crock-pot is a super tool when it comes to cooking legumes. In fact, beans and slow cookers are best friends. There are no worries about burning food or precise timing. And the food can even cook while you are sleeping or while you're away from home. Just turn it on and forget about it!
If you like walking in the door and finding dinner ready and waiting for you, you'll love the convenience of using a crock-pot.
How Many Cups of Dry Beans Equals How Many Cups of Cooked Beans?
There are approximately 2 cups of beans per pound of dry beans.  Two cups of dry beans yields about 5 cups of cooked beans.
Great Slow-Cooked Bean Recipes
Slow-cooked beans come in handy for making:
How to Cook Beans in a Slow Cooker (Crock-Pot)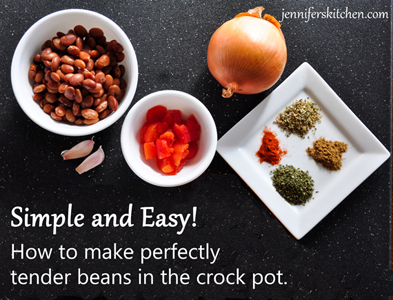 Slow Cooked Beans
Author:
Jennifer's Kitchen
Ingredients
1 1/2 pounds dry beans
10 – 12 cups water
Instructions
Sort through beans, removing stones and dirt.
Place beans in a large colander, and rinse very well under running water.
Transfer beans to slow cooker.
Add water.

(The amount of water needed may vary. Some crock-pots lose a lot of water during cooking, and some do not. With just a little bit of experimenting, you'll know exactly how much water your cooker requires. In fact, I never measure the water when I add it to the beans. I just pour it in to about an inch from the top of the cooker and they always cook up nicely.)

Turn slow cooker on high and cook for at least 5 hours or up to 12 hours.

Cooking time depends on your slow cooker. All crock-pots cook differently, but you can determine how long your beans need to cook by testing them. If they are soft and tender, they are done!

Season beans with onion, garlic, and salt to taste, or try some of your favorite herbs to flavor beans.
Notes
1. Many raw beans contain a toxin that is destroyed by boiling for at least ten minutes. Most slow cookers get hot enough to bring beans to a good boil for several hours. Check your beans at the end of the cooking time to make sure they are gently boiling.
2. The cooked beans should be very, very tender before serving. If your beans are not soft after 8 hours of cooking, they may be too old or your slow cooker may not be working correctly.
3. This recipe is for a 3- to 4-quart crock-pot. If using a smaller slow cooker, reduce ingredient amounts and increase cooking time.
Popular Posts